Optical Illusions in Art
Many artists have worked with optical illusions, including M.C. Escher, Bridget Riley, Salvador Dalí, Giuseppe Arcimboldo, Marcel Duchamp, Victor Vasarely, Oscar Reutersvärd, and Charles Allan Gilbert. Some contemporary artists are also experimenting with optical illusion, including: Dick Termes, Shigeo Fukuda, Patrick Hughes, István Orosz, Rob Gonsalves and Akiyoshi Kitaoka. Optical illusion is also used in film by the technique of forced perspective.
Op art, also known as optical art, is used to describe some mid-20th-century geometric abstract paintings and other works of art which use optical illusions. Op art is also referred to as geometric abstraction and hard-edge abstraction, although the preferred term for it is perceptual abstraction. Op art painters devised complex optical spaces by manipulating repetitive forms such as parallel lines, checkerboard patterns, and concentric circles or by creating chromatic tension from the juxtaposition of complementary colours, thereby creating the illusion of movement. When the viewer looks at them, the impression is given of movement, hidden images, flashing and vibration, patterns, or alternatively, of swelling or warping. Many of the better known op art works are made in only black and white.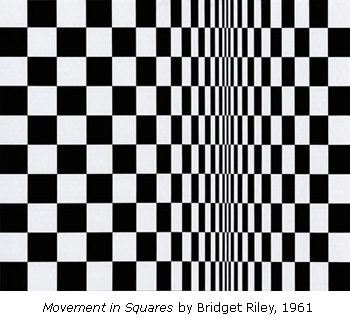 Trompe-l'œil is an art technique involving extremely realistic imagery in order to create the optical illusion that the depicted objects really exist, instead of being just two-dimensional paintings. The name is derived from French for "trick the eye", from tromper - to deceive and l'œil - the eye.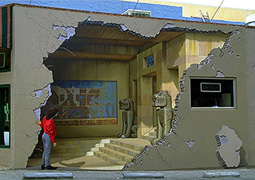 Wall mural "Siete Punto Uno" by John Pugh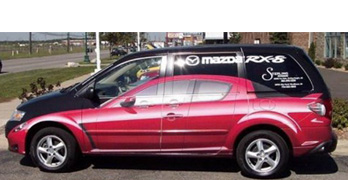 Sports car wanna-be truck
Julian Beever is a contemporary English artist who has created many chalk drawings on pavement that use this technique to create the illusion of three dimensions when viewed from the right location. These trompe-l'oeil drawings are created using a projection called anamorphosis and appear to defy the laws of perspective.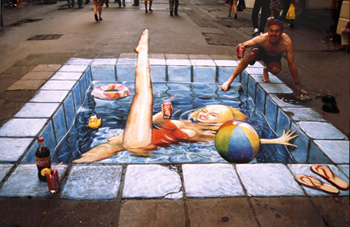 Pool sidewalk chalk drawing by Julian Beever
See more of Julian's amazing chalk drawings in the Gallery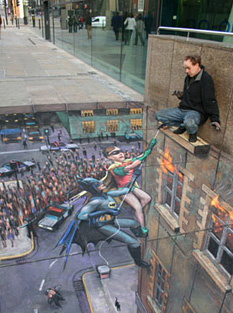 Batman and Robin by Julian Beever